Gunther K Bonn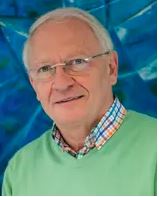 Gunther K Bonn, o.Univ.-Prof.Mag.Dr.Dr.h.c.
Editor-in-Chief
Scientific Director, Institute of Analytical Chemistry and Radiochemistry
University of Innsbruck, Austria
Biography
Dr. Gunther K. Bonn studied chemistry at the University of Innsbruck and obtained his Ph.D. in 1979. In 1988 he spent time as a visiting professor at Yale University working with Prof. Csaba Horvath, one of the pioneers in modern HPLC. In 1996 he became Head of the Institute of Analytical Chemistry and Radiochemistry at the University of Innsbruck, Austria. He is currently CEO and Scientific Director of the Austrian Drug Screening Institute (ADSI).
In addition to his scientific career, Bonn began to deal with science and research policy issues at an early stage. In 1991 he became a member of the Large Equipment Commission of the Federal Ministry of Science and Research, 1993-1999 a member of the University Council and 1996–2003 a member and advisor of the Fund for the Promotion of Scientific Research (FWF). From 2002 to 2007 Bonn was a member of the Science and Research Council of the State of Salzburg. In 2003 he also assumed the presidency of the BIT - Office for International Research and Technology Cooperation.
From 2000 to 2010 Gunther Bonn was a member and deputy chairman of the most important research policy advisory body in Austria, the Council for Research and Technology Development. Since 2003, he has also been a member and deputy chairman of the University Council of the Medical University of Innsbruck.

Research Interest
Dr. Bonn's special interests are basic research and its technical applications of chemical analysis methods, particularly in the fields of bio-, genetic and phytoanalysis, environmental and radio analysis. He has published more than 180 scientific articles, is co-author of two books and is involved in eleven patents. In 2003 Gunther Bonn received the Halasz Medal Award. In 2011, Bonn received the Tyrolean Decoration of Honor.