Lusike A. Wasilwa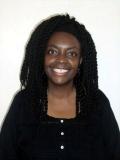 Lusike A. Wasilwa
Assistant Director incharge of Horticulture, Kenya Agriculture Research Institute
Nairobi, Kenya
Biography
Lusike Wasilwa holds a Bachelor of Science (BSc) degree in Agriculture from University of Eastern Africa, Baraton; Master of Science (MSc) in Horticulture and doctorate (Ph.D.) in Plant Science from the University of Arkansas, Fayetteville, US; and a post doctorate from Rutgers University, New Jersey. Dr. Wasilwa has received several career building awards beginning in University of Eastern Africa where she was placed in the Dean's List of Excellence. She has research experience of over 25 years and has authored or co-authored several publications, scientific articles and technical papers in a wide spectrum of subject matter with emphasis in horticulture, molecular plant pathology and horticulture product value chains.
Lusike works for Kenya Agriculture Research Institute at the headquarters in Nairobi as the Assistant Director in charge of Horticulture and Industrial Crops Research.
She is the Chair of the Southern and Eastern Cotton Forum (SEACF) and serves on the advisory board for the African Journal for Horticultural Science; Pest Control Products Board, Kenya National Accreditation Service (KENAS) Board, Institute for People, Innovation and Change n Organizations (PICO), USTADI and the Kenya Agricultural Productivity and Agribusiness Programme (KAPAP) grants advisory and approval committee. Dr. Wasilwa served on the Kenya Agricultural Productivity Programme (KAPP) and the Commission for Higher Education (CHE) grants advisory and approval committees.
In 2006, she received a fellowship from Gender and Diversity Rockefeller Fellowship Programme to enhance the careers of women crop scientists in East Africa. In 2010, she was recognized by the African Women in Agriculture Research Development (AWARD) for her dedication and commitment to excellence in mentoring from 2008 to 2010.
Research Interest
Research interests of Lusike A. Wasilwa are diverse including research in fruits (mango, guava, loquat, gooseberry, avocado, passionfruit, blueberry, cranberry, pineapple), vegetables (cucurbits, African indigenous vegetables, spinach, cowpea, tomato), nuts (macadamia, groundnuts, coconuts), medicinal and aromatic plants (bixa, vanilla, rosemary, aloes); plant pathology focus on horticultural crops; molecular biology, breeding; and nutritional benefits of horticultural crops.