Case Report - (2023)Volume 13, Issue 1
Prosthetic Hip-associated Cobalt Toxicity and Refractory Anaemia: An Unusual Hookup
Ankita Sheoran
*
,
Prabhat Kumar Singh
,
Nishant Sharma
and
Pulin Kumar Gupta
*Correspondence:
Ankita Sheoran, Department of Medicine, Atal Bihari Vajpayee Institute of Medical Sciences (ABVIMS) and Dr. RML Hospital, New Delhi, India,
Email:
Abstract
Owing to the wear and tear phenomenon in patients with metal-on-metal implants, release of the metal ions and consequent deposition of these metal ions in the surrounding muscle, followed by subsequent leaching into the systemic circulation, causes various side effects. It is most commonly seen with metals like cobalt and chromium. Cobalt toxicity usually presents with cardiomyopathy, polyneuropathy, bilateral optic neuropathy, bilateral sensorineural hearing loss, thyroid disorders and polycythaemia.
Here, we report a case of a 38-year male, diagnosed case of axial spondylarthritis with bilateral hip replacement, and misaligned left hip implant, presented to emergency with progressive dyspnoea. Although he did not have the typical manifestation of cobalt toxicity, it was diagnosed as anaemia with polyneuropathy, secondary to cobalt toxicity, based on serum and urine cobalt level. Change of hip prosthesis resulted in decline in serum cobalt levels and gradual improvement of anaemia and other symptoms. The case presents as first ever reported case of recurrent anaemia due to cobalt toxicity. Therefore, it is important that clinicians be aware of such systemic manifestations in order to make a prompt diagnosis, enabling effective and timely intervention to reduce associated morbidity.
Keywords
Cobalt toxicity; Axial spondylarthritis; Anaemia; Polyneuropathy
Introduction
Cobalt is a divalent metal ion found in the serum in trace amount. Metal-on-metal hip implants are at a risk of wear and tear leading to the deposition of metallic ions in surrounding soft tissue and subsequent entry into the blood stream, thus, leading to various systemic manifestations. Prosthetic Hip- Associated Cobalt Toxicity (PHACT) is a widely reported complication of hip implants [1]. The cobalt toxicity usually presents itself as neurological and thyroid dysfunction along with cardiomyopathy. Polycythemia has been reported in few cases [2]. The mean duration of the appearance of signs and symptoms is between 3 to 72 months following arthroplasty [2].
Case Presentation
A 38-year male, teacher by profession, diagnosed with Human Leukocyte Antigen HLA B-27 positive ankylosing spondylitis for 15 years, presented with breathlessness for past 2 months (New York Heart Association (NYHA) class 3 at presentation), and associated swelling of both lower limbs. He had undergone bilateral hip replacement surgery, right side in 2009, followed by the left side in 2011. However, he had developed limping and pain in left hip from last one year. Past medical history was significant for blood transfusions, six times in past two years. Detailed history from family members revealed that he had disturbed sleep and irritable, apathetic behaviour towards family members for past 1 year. On examination in emergency room, he looked pale, and had bilateral pitting pedal oedema. He was unable to walk without support, with his body swaying to the left side. He was tachypneic (respiratory rate 24/minute) and had tachycardia (pulse rate-108/minute). Passive movements at left hip joint were restricted and painful. Hemogram showed severe anaemia (Haemoglobin-4.4 gm/dl), Mean corpuscular volume as 70 femtolitre, and absolute reticulocyte count was 0.2%. Peripheral smear showed microcytic hypochromic anaemia. Kidney and liver function tests were normal. The serum iron profile showed iron deficiency anaemia (serum iron-13 mcg/dL, UIBC-294 mcg/dL, TIBC-497 mcg/dL, and saturation-4.7%). Serum LDH was 183 mg/dL and serum ferritin was 43 mg/dL. Echocardiography showed normal chamber dimensions and ejection fraction of 55%. Faecal occult blood, workup for celiac disease, abdominal ultrasonography and computed tomography of abdomen and oesophagogastroduodenoscopy were normal. Bone marrow aspirate showed decreased iron stain. In view of persistent complaint of numbness in lower limbs, nerve conduction study was performed, which showed reduced nerve conduction with low amplitude in left peroneal and tibial nerves, and no response recorded in bilateral sural nerve, suggestive of sensorimotor neuropathy of bilateral lower limbs. Magnetic resonance imaging of hip joint showed wear and tear of prosthesis and metallic deposition in surrounding tissues (Figure 1). The constellation of anaemia, polyneuropathy, neuropsychiatric manifestations and history of alternative (homeopathic) medication intake, led us towards possible heavy metal toxicity, and thus, toxic metal screen was planned. Serum cobalt level was found to be 11.3 micrograms/litre (normal reference<1.8 micrograms/litre). The urine cobalt level was 29.9 micrograms/litre. Serum lead, cadmium, arsenic, mercury, antimony, nickel and thallium levels were normal. After orthopaedic consultation, hip implant replacement and reconstruction was planned. Intraoperative findings confirmed extensive wear and tear of left hip prosthesis (Figure 2). The prosthesis recovered confirmed the findings (Figure 3). Postsurgery follow-up at 4 weeks and 12 weeks showed declining serum and urinary cobalt levels (serum and urinary cobalt levels at 4 weeks were 5.9 micrograms/litre and 18.27 microg/L, respectively, and 2.6 micrograms/litre and 5.4 micrograms/litre, respectively, at 12 weeks) Haemogram at 12 weeks showed haemoglobin as 10.5 gm/dl. Iron profile showed serum iron-102 mcg/dL, TIBC-263 mcg/dL, UIBC-161 mcg/dL, and transferrin saturation as 39%.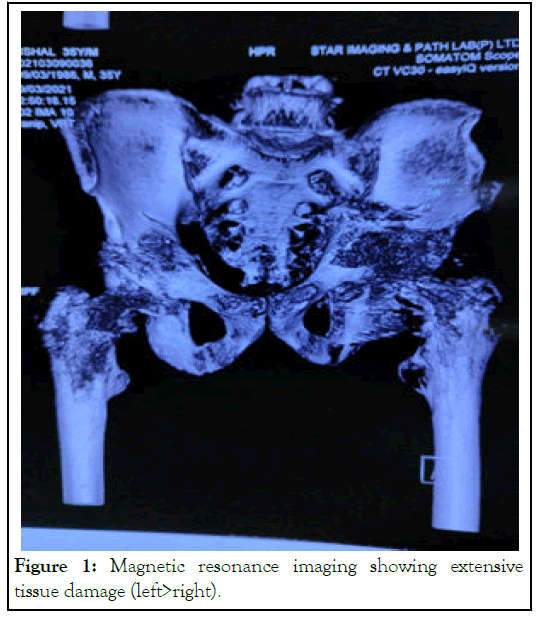 Figure 1: Magnetic resonance imaging showing extensive tissue damage (left>right).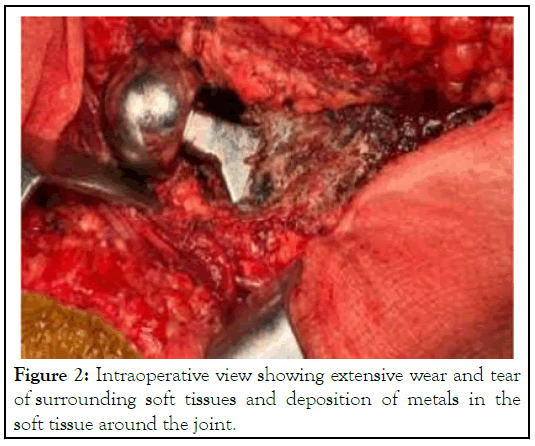 Figure 2: Intraoperative view showing extensive wear and tear of surrounding soft tissues and deposition of metals in the soft tissue around the joint.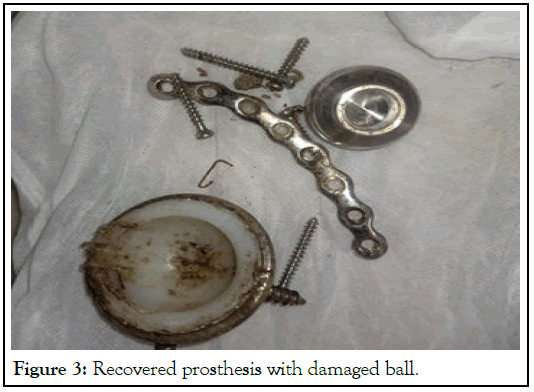 Figure 3: Recovered prosthesis with damaged ball.
Results and Discussion
Prosthetic hip associated cobalt toxicity has various systemic manifestations, the common ones being neurological symptoms such as polyneuropathy, optic nerve atrophy and sensorineural hearing loss [2,3]. Other systemic manifestations include hypothyroidism, cardiomyopathy leading to complications like atrial fibrillation and flutter, psychiatric manifestation like depression, constitutional symptoms like fever, irritability, anorexia, fatigue and weight loss [3]. The proposed mechanisms of toxicity include disruption of mitochondrial oxidative phosphorylation, neurotransmitter modulation and direct neuron cytotoxicity [4]. In regards to the haematological manifestation, cobalt toxicity due to the oral ingestion of cobalt chloride tablets is associated with polycythaemia, possibly due to the increased levels of hypoxic inducible factor 1-alpha and increase erythropoietin production [5]. Iron deficiency anaemia secondary to cobalt toxicity is an unreported presentation. The possible mechanism may involve impairment of absorption ferrous ions via the divalent metal ion receptor present in duodenum in the presence of high cobalt levels, leading to depletion of the iron stores [6]. Treatment includes N-acetyl cysteine and iron supplementation till definitive revision surgery is performed [7].
Conclusion
Prosthesis-associated metallosis is usually attributed to cobalt and chromium leaks. The classical features of cobalt toxicity include cardiomyopathy, neurological involvement (polyneuropathy, bilateral optic neuropathy, bilateral sensorineural hearing loss), and thyroid disorders. Though theoretically explainable polycythemia has been one hematological feature, refractory anaemia as seen in our patient, is an unusual presentation. Multisystem symptomatology in patients with metal-on-metal prosthesis should alarm clinician, of heavy metal toxicity. Treatment involves revision surgery with non-metallic implants.
Acknowledgement
We want to thank Department of Radiology, Neurology, and Orthopaedics, Atal Bihari Vajpayee Institute of Medical Sciences (ABVIMS) and Dr. RML Hospital, New Delhi.
Conflict of Interest
The authors declare no conflicts of interest.
References
Author Info
Ankita Sheoran
*
,
Prabhat Kumar Singh
,
Nishant Sharma
and
Pulin Kumar Gupta
Department of Medicine, Atal Bihari Vajpayee Institute of Medical Sciences (ABVIMS) and Dr. RML Hospital, New Delhi, India
Citation: Sheoran A, Singh PK, Sharma N, Gupta PK (2023) Prosthetic Hip-associated Cobalt Toxicity and Refractory Anaemia: An Unusual Hookup. J Clin Toxicol. 13:525.
Received: 02-Jan-2023, Manuscript No. JCT-23-21241; Editor assigned: 04-Jan-2023, Pre QC No. JCT-23-21241 (PQ); Reviewed: 18-Jan-2023, QC No. JCT-23-21241 ; Revised: 25-Jan-2023, Manuscript No. JCT-23-21241 (R); Published: 01-Feb-2023 , DOI: 10.35248/2161-0495.23.13.525
Copyright: © 2023 Sheoran A, et al. This is an open-access article distributed under the terms of the Creative Commons Attribution License, which permits unrestricted use, distribution, and reproduction in any medium, provided the original author and source are credited.